Abu Hashish Dive Site Hurghada
---
The ideal place on the Red Sea to see flute fish and squid, also a large red octopus inhabit the places
Dive Site Details
Abu Hashish is the island at the center of a wide bay 90 minutes south of Hurghada. It is enclosed by a vast reef network, situated on a large flat and sandy plateau which leads to a steep drop-off. Due to its ideal location it was once used as drop-off point for smugglers bringing contraband into the country
.A tongue of reef extends about 1km south of the island. The dive site is at its southernmost tip. There is a shelf between 15 meters and 22 meters outside, and beyond that a steep, but fairly bare, drop-off, usually with superb visibility. Inside the tongue of reef there are many table corals and ergs to be explored.The trip here can be choppy. Rough seas often make this site inaccessible from Hurghada although the site itself is well protected. Actually, it's a desired spot for all levels of divers and custom made for all levels of training. Current is mainly north to south and strongest along the drop-off.
Your best bet is to leave the lagoon through an obvious channel filled with table corals, cross the shelf to the drop-off and follow it north. There are some beautiful caves in the 30 meter region. Return along the inside of the shelf and finish the dive back in the lagoon amongst the numerous ergs.
Pelagics such as jacks, barracuda, spanish mackerel and whitetips are common feature here and, every now and then, hammerheads and feathertail rays. On the shelf you may encounter, turtles, bluespotted rays, Spanish dancers, morays, lunartail and leopard groupers.
In the lagoon at Abu Hashish, one often sees cornetfish and a squadron of bigfin reef squid hovering in formation. The plateau is being transversed by hooded cuttlefish. During the process they swiftly change color and texture as protective camouflage. Speaking of camouflage; on the other site of the narrow channel there's a big red octopus roaming around, protected from predators by his camouflage. This is a treat for the eye.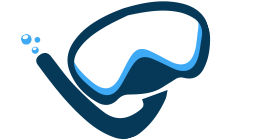 Be more than just another diver when you join EgyptDivers!