Banana Reef Hurghada
---
For the lover of photogenic sites near Hurghada with feather tailed rays and turtles regularly swimming by. Spot the anemone fish in their hundreds
Dive Site Details
For the lovers of photogenic sites near Hurghada, with feather tailed rays and turtles regularly swimming by. Spot the anemone fish in their hundreds.
In the vicinity of Big Giftun, and close to Ben el Gebel, this sheltered crescent-shaped reef is suitable for most levels of divers.  It's around 90 minutes of sailing to reach Banana Reef.
Here, moorings are located on the south side of the main reef. The crescent formation is enclosed by an attractive coral garden and a pair of truly magnificient ergs. Banana of course refers to the reef's unusual shape.
Current can be considerably strong in this area, effecting the visibility, also in shallow water. Actually, a drift is the most natural way to dive this spot. Although the wall of the reef isn't particularly the most impressive part of Banana Reef, it serves as a good navigation point by keeping it in visual focus.
Banana Reef's key features to fully appreciate diving are an amazing erg, boulders, gorgonias, bannerfish and sloping gardens of corals, decorated in lilac and purple colours.
The coral gardens slope down in northwest direction and gradually transform into a sandy patch at around 20 meters. On the southeast corner, and in the wall's proximity is an enchanting anemone city. From here you are as if front row looking at two beautiful pinnacles, truly smothered with soft corals. They are reaching for the surface from depths of around 14 meters to 17 meters.
Simualr to nearby Ben el Gebel feather tailed rays and eagle rays regularly hover over the gardens of coral. Also, on this dive site you might have an encounter with a turtle or even a whitetip shark. Banana Reef is famous for its extensive colonies of banner fish, guarding a fan shaped boulder. The local pinnacle and gorgonian formations shelter lots of smaller fish.
You will just adore anamone city where hundreds and hundreds of anemone fish guard their juveniles. Where the pinnacles are decorated with gorgonias and soft coral, barracuda, jackfish, lionfish and groupers hunt schools of silversides and glassfish. These scenes turn Banana Reef in one of the best photogenetic sites in the Red Sea area near Hurghada.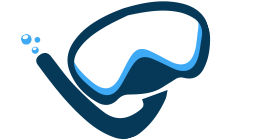 Be more than just another diver when you join EgyptDivers!