Snorkeling , Hurghada
Duration: 8 Hours
---
The Red Sea near Hurghada in Egypt houses a fantastic underwater panorama of beautiful corals and a rich variety of fish for snorkeling enthousiasts
Packages Prices
| Persons | 1 Person | 2-3 Persons | 4-6 Persons | 7+ Persons |
| --- | --- | --- | --- | --- |
| Online Price Per Person | 35.00€ | 35.00€ | 35.00€ | 35.00€ |
| Standard Price Per Person | 40.00€ | 40.00€ | 40.00€ | 40.00€ |
* Prices Above Are Applied For Persons Older Than 9 Years
** Children From 3 Years till 9 Years Have 50% discount.
*** Children Under 3 Years Are Free Of Charge
Program Details
The Red Sea near Hurghada in Egypt houses a fantastic underwater panorama of beautiful corals and a rich variety of fish for snorkeling enthousiasts
For those of you who prefer snorkeling over diving, EgyptDivers is the place to be. We will take you on a day tour along shallow reefs, easy accesssible by boat.
Snorkeling is real fun, discovering beautiful coral gardens, schools of fish dancing by and clownfish protecting anemones from close distance.
If you feel more comfortable with snorkeling in company, please do not hesitate to alert your snorkeling guide on duty. He'll be more then happy to join you and show the way underwater.
Do you like to identify corals and fish?  Our snorkeling guide is your man!
In between two snorkeling sessions you can enjoy lunch, freshly cooked on board, and served in the big saloon.
On board you' ll find a wide choice of lifejackets, fins and masks. Please note you may of course bring your private snorkeling gear with you.
Please respect the flora and fauna of the sea. Please do not touch. Just enjoy…
What is snorkeling? We hace some tips for you. The key to successful snorkeling is chilling in the water. Practice will improve your skills and comfort in the water.
Be sure your mask fits your face. Hold the snorkel mask up to your face clearing the strap from your face. Breath in through your nose. The mask should seal perfectly and stay on, without holding it, for as long as you breath in.
Choose fins that are snug but not too tight. If they hurt or curl your toes especially, you may develop cramps while snorkeling. If they slip off your heels, they're too big. Better a little big than too small. Remember they will slip on easier when your feet are wet. To use your fins correctly, kick from the hip and keep your knees and ankles relaxed to prevent your leg muscles from cramping. Fins remain below the water line, always.
Practice breathing through the snorkel with your head out of the water before the real thing. Put the mask on your head (wear your strap slightly high on the back of your head and not too tight!), suck it into your face, breathe through the tube (put the mouthpiece all the way in your mouth, like a football players mouthpiece and close your lips around it). Dont't bite, just rest your teeth on the bite thingies – or your jaw will get really sore.
Program Includes
Snorkeling equipment

Life jacket

Transfer within Hurghada, Makadi, Sahl Hasheesh
Program Excludes
Underwater photography & Photo session on board

Cost for extra activities

Coast guard fees 7 Euro per person

Transfer from and to Soma Bay (10 Euro/Pax), El Gouna (10 Euro/Pax), Safaga (15 Euro/Pax)
What To Take With You?
Towel

Sun cream

Sun glasses
Booking Notes!
-Don't forget to bring a copy of a valid passport.

-Distribution of boat trip dates is flexible and can be arranged with reception of the diving center according to your wish.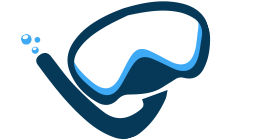 Be more than just another diver when you join EgyptDivers!