Salem Express Hurghada
---
This famous wreck in the Red Sea is a maritime grave and it is a very emotional dive. It requires utmost respect to visit this sad site of tragedy
Dive Site Details
This famous wreck in the Red Sea is a maritime grave and it is a very emotional dive. It requires utmost respect to visit this sad site of tragedy.
The Salem Express has an air of mystery that overwhelms any diver. The Salem Express was a passenger ship that sank in the Red Sea. It is controversial due to the loss of life which occurred when she sank shortly after midnight mid- December 1991. The Salem Express was a ferry that operated between the ports of Safaga in Egypt and Jeddah in Saudi Arabia.
She sank after colliding with the Hyndman reef on the Egyptian coast. Many bodies were recovered after the sinking, but eventually a halt was called due to the danger involved. Subsequently the wreck was sealed with plates welded across openings.
The majority of passengers were pilgrims returning from Mecca. Towards the end of the journey the weather started to pick up, with high winds and heavy seas buffeting the ship. A detour at captain's orders put the ship on a collision course with the Hyndman reef.
Within 20 minutes of striking the reef the ship sank in 30 meters of water, taking many passengers who were trapped below decks with her.
For those passengers that did manage to get off of the ship before she sank, they had to fight to stay afloat in the stormy seas.
Scuba divers can peer into windows and easily enter the ship from many points. The sea floor, 29 meters deep, is littered with debris. Notably, two ridged life boats rest between the smoke stacks and the stern. At the stern of the ship, divers can enter the large car door. The wreck still contains cars and luggage.
Diving the wreck has been a matter of controversy due to the numbers of lives lost, and the presence of remains inside the ship. Nevertheless recreational diving has been allowed here.
It is an emotional dive which should be done with the utmost respect. The controversy over whether the wreck of the Salem Express should or shouldn't be dived is one which will probably never reach a final and satisfactory conclusion.
The Salem Express lies quite shallow. The wreck starts at 12 meters and the seabed is at 30 meters deep. This is a huge wreck and requires at least two dives for exploration.
Even marine life has respect for this sad maritime tomb. There are only a few groupers, crocodilefish, surgeonfish and groupers around. After two decades in the water, a small amount of hard coral growth has begun.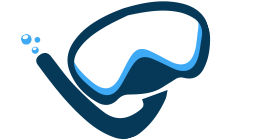 Be more than just another diver when you join EgyptDivers!