Giftun Island Hurghada
---
Giftun Island Your excellent dive choice of the day for hard and soft coral, napoleon wrasse and parrotfish.
Dive Site Details
Giftun Island Your excellent dive choice of the day for hard and soft coral, napoleon wrasse and parrotfish, and, with a bith of luck, the odd buffalohead parrotfish.
Around 45 minutes  separate Hurghada from the Giftun Islands. Giftun comes in two sizes, Kebier as in Big, and Sughayer or Saghir as in Small.
The Giftun beaches are in mint condition. Therefore they are a very popular excursion from Hurghada, offering snorkeling, diving and lazy sunbathing.
Close to the shore, the coral reef snorkeling is simply superb.
Offshore, the reefs boasts  dramatic drop-offs for experienced divers.
Giftun is sometimes exposed to weather and strong current. Needless to say some experience is highly recommmended for the deep wall dive here.
Moorings are in place at the south side of Giftun Police station which is on top of a 15 meter to 25 meter deep plateau. This plateau transforms into a stretching shelf, allowing for the existence of the mentioned deep wall.
Although the plateau can be reached from the mooring system a drift is the preferable and natural choice. You drop next to a verticall wall and follow the current due south.
The eastern wall drops sheer to great depths. It is very contoured, and its craggy profile features some interesting caves. Some of these lie deep.
Where the main reef slightly curves to the west over the plateau, the drop-off takes on a zigzag appearance. At around 15 meters deeper there a spectacular tunnel.  Please be alerted it is out of reach for recreational divers.
All over the drop-off huge gorgonians are waving in the current as if welcoming you to an underwater jungle. The plateau itself at Giftun is a half-covered coral garden. Eventually it leads up to the wall's shallower parts.
As said, the swaying huge gorgonians create the illusion of an underwater jungle, serving as a drawn transparant curtain for longnose hawkfish, luring on their prey. Occasionally turtles hover over the coral forest, as well as napoleon wrasse. Giftun is also the sight of moray eels cruising the wall. The site is patrolled by pelagic species like barracuda and tuna.
The waters of the Red Sea here are teaming with aquatic life, colourful fish and beautiful corals, all ready for you explore.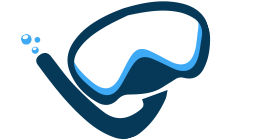 Be more than just another diver when you join EgyptDivers!