Fanous and Turtle Bay Hurghada
---
What has Turtle Bay for you? Turtoises by all means.Here you may also indulge in the world of antler and table corals, snappers, mullets and parrotfish
Dive Site Details
Here you may also indulge in the world of antler and table corals, snappers, mullets and parrotfish.
Fanous means ' lighthouse'  in local parlance. It's the eastern and more popular part of a 300 meter long reef, extending  from the east to the west. There's a natural 'seggregation' that has given rise to El Fanous East and El Fanous West.
Fanous and Turtle Bay Location
Fanous is around 30 minutes sailing from Hurghada. This site is ideal for all levels of diver and fit for training sessions. Fanous means beacon and this is how the site got its name, the beacon perched on top of the main reef.
On the east side is a shallow wall emerging from a sloping sandy bottom. It is littered with blocks of coral and fine pinnacles. The wall on the eastern side of the main reef shows its best on the part that is shallow. Here, the small coral blocks and table corals decorate the bottom.Bottom dwellers find ample space here to dwell.
Two very attractive ergs rise from the sea floor at a distance of around 20 meters from the main reef. They are densily carpeted with soft corals. The ergs are split up by cavities and cracks, proving a dream scenario for photographers and videographers.
It is not unusual to come across a pot of dolphins near Fanous East. Its pinnacles are the battleground for jackfish and lionfish chasing clouds of glass fish and silverfish. It's a fishtank by all means, with surgeonfish, tangs and unicorn fish creating  an intriguing underwater panorama.
The ergs are carpeted with a plethora of soft and hard corals.
Turtles can be spotted feeding in coral gardens on the site of Fanous West. This site is always protected and shares the ideal diving conditions of Fanous East.
Fanous West is characterized by a flat sandy bottom flanking a shallow reef wall. A narrow channel will lead you into a 9 meter deep lagoon via a sloping garden of corals; down to 14 meters.
A dive at Fanous West is probably at its most interesting when triggerfish are nesting in the months of Augustus and September. Your close encounters are begging to be captured on camera. The coral garden guarantees fingerprint Red Sea action with roaming giant moray eels, silversides and jackfish. It is not unusual to encounter a pod of dolphins here.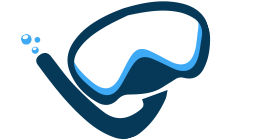 Be more than just another diver when you join EgyptDivers!