Dolphin House Trip , Hurghada
Duration: 9 Hours
---
Feel the sensational presence of dolphins in the Red Sea near Hurghada in Egypt. You will never forget an underwater encounter with our playful friends
Packages Prices
| Days | 1 Day | 2-3 Days | 4-6 Days | 7+ Days |
| --- | --- | --- | --- | --- |
| Online Price Per Person/Day | 35.00€ | 35.00€ | 35.00€ | 35.00€ |
| Standard Price Per Person/Day | 45.00€ | 45.00€ | 45.00€ | 45.00€ |
* Prices Above Are Applied For Persons Older Than 9 Years
** Children From 3 Years till 9 Years Have 50% discount.
*** Children Under 3 Years Are Free Of Charge
Program Details
Feel the sensation of the presence of dolphins in the Red Sea near Hurghada in Egypt. You will never forget an underwater encounter with our playful friends in Dolphin House Hurghada.
The Dolphin House trip makes you part of the sensation of swimming with dolphins in their natural Red Sea habitat. The Dolphin House is undoubtedly the most popular destination of all our Red Sea trips. There's a great chance you will spot a lot of dolphins, but a success rate cannot be guaranteed.
About Dolphin House Hurghada Trip
On the day of the trip, you will be collected from your holiday location and taken to our center.  The trip starts at 8:00am and by 9:30am we should be arriving at a place the north of Hurghada. Meanwhile, you can watch the awakening Red Sea and soak up the morning sun rays.
Noth of Hurghada features a wide variety of very nice corals and vibrant fish life but derives her worldwide fame mainly from the presence of an abundance of dolphins.
Dolphin House Hurghada Trip
At our first stop, we have two hours of snorkeling for you in-store, meanwhile swimming with dolphins and watching them being happy and free in their natural environment.
Then we move on to the second spot where you will enjoy our lunch buffet, freshly cooked on board. After lunch, we go out snorkeling again.
On arrival at 4pm at our center, we will transfer you back to your location.
During your encounter with dolphins, you must realize, regardless of their playlike behavior, our famous friends are basically essentially predators, living in the wild. They must be respected with great consciousness.
As tempting and 'cuddly' dolphins appear, they should never ever be touched. Just enjoy passive interaction and keep a respectful distance. Let the dolphins decide if they want to play. Always respect their comfort zone.
Therefore regulations and guidelines have been drawn which you must follow very strictly during this trip. Here are some suggestions for proper conduct when meeting dolphins. Our friends will be very thankful if you follow these simple directions:
Glide very gently and quietly from a sitting position into the water
Always use a lifejacket, fins, mask, and snorkel
Keep your arms close to your body, move only your fins without excessive splashes
Don't approach the animal directly. Swim parallel and never dive down directly from above
Never dive down when the animal is resting
Never touch the animal because diseases can be mutually transmitted
Don't make any unnecessary noises
Egypt Divers are one of the companies renowned and appreciated for their sensible and respectable dolphins approach. We strive least possible impact on dolphins and their environment. Our top priority is the welfare of the animals. At the end of the day, we all benefit.
Program Includes
Snorkeling guide

Snorkeling equipment

Life jacket

Soft and hot drinks

Lunch

Transfer within Hurghada, Makadi, Sahl Hashish
Program Excludes
Coast guard fees 7 Euro per person

Underwater photography & Photo session on board

Cost for extra activities

Transfer from and to Soma Bay (10 Euro/Pax), El Gouna (10 Euro/Pax), Safaga (15 Euro/Pax)
What To Take With You?
Towel

Sun cream

Sun glasses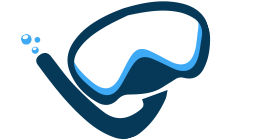 Be more than just another diver when you join EgyptDivers!