Abu Ramada Island Hurghada
---
Here you may anticipate beautiful hard and soft coral gardens, firefish, octopus, doctor fish and night snails. Common here are morays and barracuda
Dive Site Details
Here you may anticipate beautiful hard and soft coral gardens, firefish, octopus, doctorfish and night snails. House pets here are morays,  barracuda, napoleons, tuna, schools of unicorns, groupers and a cloud of millions of tiny anthias.
Abu Ramada Dive Site Location
About 60 to 90 minutes out of Hurghada we hit Abu Ramada, comprising a northern plateau, a big three-peaked erg going by the name of camel reef, a coral garden and a terrace-profiled plateau. The Gota part of Abu Ramada is called the aquarium after the overwhelming amount of marine life.
Abu Ramada, exposed as it is, has retained much of its untouched beauty. There are better places than the drop-off here. Your air is more wisely spent circling the three ergs at ascending depths. Visit the small eaves on the east side of the largest erg and north side of the middle one.
The north sides have a particularly healthy growth of lilac and purple soft corals. Fusiliers, sweeping over the plateau, attract attention of giant barracuda, big eye trevallies and yellowfish tuna. This is a must for photographers and videographers.
The south side is renowned for swimming morays cruising the present wall. Massive schools of masked butterflyfish, sweetlips, goatfish and bannerfish hover over along the same wall and around the ergs.
Gota Abu Ramada consists of a huge coral block, located close to Abu Ramada from which the name gota, piece, has been derived. This small site, on a group of coral pinnacles just offshore from Abu Ramada, is an incredibly dense collection of the best in coral growth and reef fishes. The pinnacles are carpeted in rich layers of coral, with colourful soft corals predominating, along with some gorgonians.
This place is famous for its huge amount and variety of soft and hard corals with dominance of brain corals, the largest and most beautiful in the region.
Gota Abu Ramada is commonly known as the aquarium for obvious reaons. The sheer number of fish here is what makes this site so special.
It is home to many kinds of fish in huge quantities. Gota is flooded with species of goatfish, bannerfish, sweetlips, masked butterflyfish and glassfish. It is certainly not unusual to meet morays, cornetfish, jacks and barracuda. With a trained eye you will also spot nesting triggerfish and crocodilefish.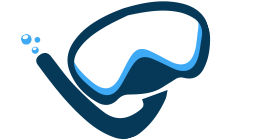 Be more than just another diver when you join EgyptDivers!