Shaab Petra Hurghada
---
Shaab Petra in the wonderful Red Sea near Hurgada is covered by typical petite reef fish. Divers will meet large schools of sergeant major and goatfish
Dive Site Details
Shaab Petra in the wonderful Red Sea near Hurgada is covered by typical petite reef fish. Divers will meet large schools of sergeant major and goatfish.
Shaab Petra Location
Shaab Petra is 45 minutes southeast from central Hurghada by boat. Lkie Shaab Eshta, she is located in the Magawish area. It finds protection from the Giftun islands even though it may turn out to be choppy on a windy day. The site is perfectly fit for anay level of diver and nicely suited for entry level training. The Red Sea here is usually calm with a mild current from the northeast or northwest.
Shaab Petra Dive Site in Details
Shaab Petra encompasses two oval shaped ergs, separated by a stunning 60 meter long coral garden. The two ergs are covered by typical petite reef fish. Worthy of note are the bicolour and bluegreen puller, the arabian damsal and the humbug damsel.
There are mooring lines on the south side of each erg so you have the privilege of a delicate choice. Both ergs are hill-shaped. The hard corals in the shallows are in an amazingly pristine condition.
The eastern erg accommodates a huge brain coral and it looks as if it is pointing towards the corridor with the coral garden. It is as if you are looking at the image of a turtle residing on a sandy bottom.
There's a small cavern at the other side, home to a group of glassfish. Watch out for a red tooth grouper harrassing lionfish to dedend his own supply of a fresh food menu.
The erg on the west side is smooth-shaped, sitting on a flat sandy bottom. You can dive Shaab Petra in about 45 minutes at a relaxed pace, doing a route of a figure of eight.
The two ergs are covered by those typical tiny refe fish like the humbug damsel, the arabian damsel, the bluegreen puller and the bicolour puller. Across the top roam unlimited schools of goatfish and sergeants major.
The coral house block here is perforated and contains glassfish and hatchetfish, spilling out onto the surrounding reef. Various large holes are home to squirrelfish, soldierfish, cardinal fish, glasseyes and hatchetfish.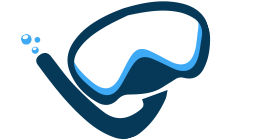 Be more than just another diver when you join EgyptDivers!